Pat and Kathy were members of
The Brandis Dance Theatre Performing Arts Troupe
back in the 1990's, and we did some very special choreography for their First Dance.
They had a couple years of seriously dancing before their Wedding, including many performances in a variety of Dance styles.
This particular number really moved and flowed
around the room -
these still pictures don't do it justice!
Kathy chose a Tea Length dress so she could
move easily around the floor,
and we even included a little lift at the end of the number.
"
I have good memories of all the weeks of practice. I recall that many people, including several professional dancers, were very impressed by the choreography. Even today, some people who were present at the reception will comment about how spectacular the dance was.
Kathy and I met while dancing. We grew to know and love one another while members of the Brandis Performing Arts group. We have continued our dancing to this day, and hope to dance well into old age together."
Pat Weir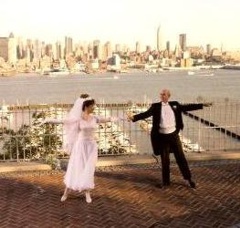 In the New Millenium, Pat & Kathy are still dancing -
Watch out, Fred and Ginger!